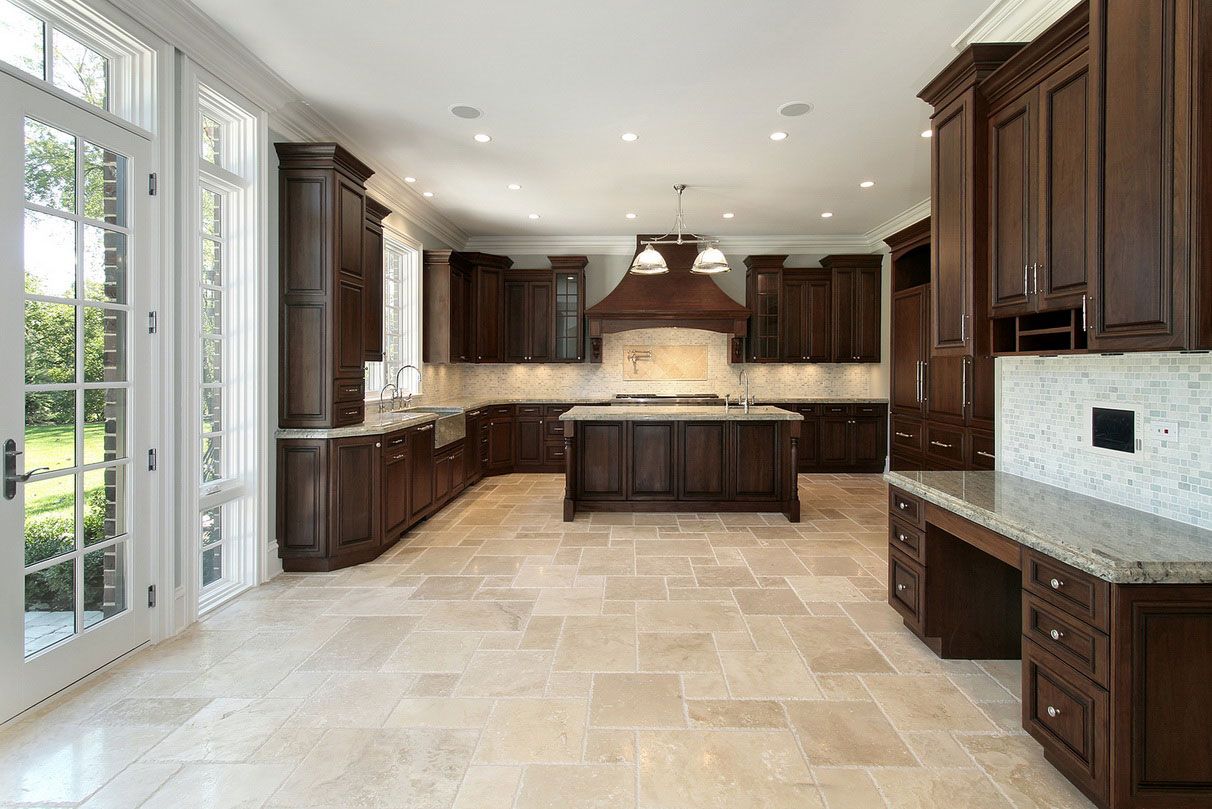 The kitchen is where you prepare tasty meals for your home. It's worth decorating beautifully to enable you to spend ample time mixing exotic ingredients with passion and smiles. 
The flooring of your kitchen has a great contribution to its appearance. It is, therefore, important to get the best flooring. You must also consider the durability, beauty, and maintenance of the material you intend to use. 
The ideal floor must be easy to clean, resistant, non-slip, and decorative. Don't forget that in addition to being functional, it should complement the design of your kitchen.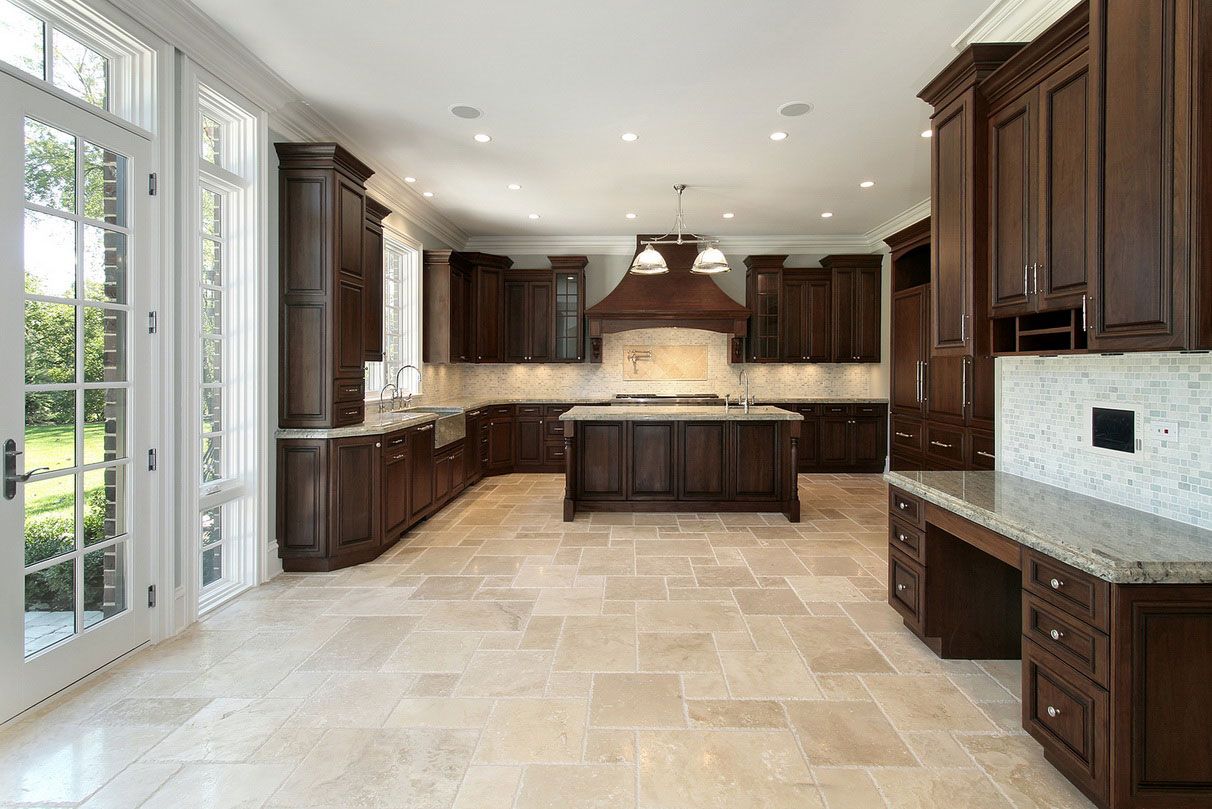 Types of Flooring for the Kitchen
Read on to learn the best type of flooring to install in kitchens of different house floor plans and what design to choose.
Tiles
Tiles have remained a favorite flooring for kitchens for a long time. The main advantage of using tiles is the ease of cleaning, maintenance, and resistance to humidity. Tiles mainly come in 3 forms including terracotta, stone, and sandstone.
They have the advantage of making the room warm. Sandstone tiling is very robust and easy to maintain while porcelain stoneware tiling is an accessible choice with a reasonable price range. 
Be careful after installing tiles as the floor becomes slippery when wet and ceramic dishes break easily when they fall on the floor. 
Marble 
Marble floors are strong and elegantly finished. You can use marbles on the floor, cabinets, and walls. Have in mind that you need a loose budget to use this type of material as flooring because it is expensive. Its beauty makes it worth the money.  
Waxed concrete
This type of floor covering has spread in recent years for use in kitchens. It gives an industrial style with its shades of gray. The flooring can be extended to the worktop and splashback to give a "raw" look to your kitchen. 
Waxed concrete is known for being hygienic in addition to being flexible and resistant. Nevertheless, its installation must be done by a professional and requires a water-repellent treatment to be proficient and last over time.
Vinyl
Vinyl is a plastic coating that allows great customization. It can be of different colors or shapes and imitates various surfaces (wood, concrete, natural stone, and so on). Vinyl flooring is easy to maintain but has a much shorter lifespan than parquet or tiles.
Parquet
Long used for warm rooms, parquet is now finding its way into more kitchens. Moisture-resistant wood must be used for kitchen parquet installation. It is a very good insulator that will make your kitchen warm. Solid parquet is relatively expensive and must be installed by a professional to avoid the problem of waterproofing.
Cork 
Corks are usually used as stoppers in wine bottles or as push-pin boards. They're eco-friendly materials that can also be used as flooring. They're incredibly great for kitchens as they give a convenient cushion-like effect underfoot. Corks have to be finished to preserve them from water. And like hardwood, they can be refinished to give a brand new look.
Hardwood 
Hardwood is a very strong flooring material that can be used for your kitchen flooring. The major downside is that it can be damaged by moisture. But it can be modified for use in the kitchen. There are several maintenance procedures you can implore to make it last longer. 
Many homeowners still prefer ageless hardwood despite its susceptibility to moisture and stain. You can always refinish your hardwood floor to retain its original look.
Bamboo 
Here's another durable flooring perfect for kitchens. Unlike hardwood, bamboo is resistant to moisture. This flooring material is getting even more popular in recent years because of its beautiful appearance and long-lasting feature. 
Bamboo is more expensive than hardwood. And refinishing requires the help of a professional. 
Linoleum 
This material has been used for flooring kitchens for years. It is made from natural linseed oil. Linoleum is an eco-friendly material that's easy to maintain and clean. Most homeowners don't like it because the installation process takes quite long. If you decide to go for linoleum flooring, ensure that you purchase high-quality materials. This is to avoid damage due to humidity. 
Porcelain 
Along with ceramics, it is the most widely used material. Its high resistance to humidity and temperatures makes it suitable for this space. Of course, it is more expensive than ceramic. If your kitchen is small, large tiles are ideal because they give more space. It is easy to clean, hard to scratch, and 3 times stronger than any other floor. Reducing slip risks by employing ARD technology makes it highly slip-resistant.
Final Thoughts
You have all the cards in your hands to choose the right flooring for your kitchen. Now is the time to think about how you want to organize it. 
The choice you make depends on your taste and personality. For the best result, use a flooring type that is resistant to stains and splashes, waterproof to avoid future moisture problems, easy to clean, and blends with the style of your kitchen. 
Always have in mind that the kitchen is an important part of the home that is worth beautifying.