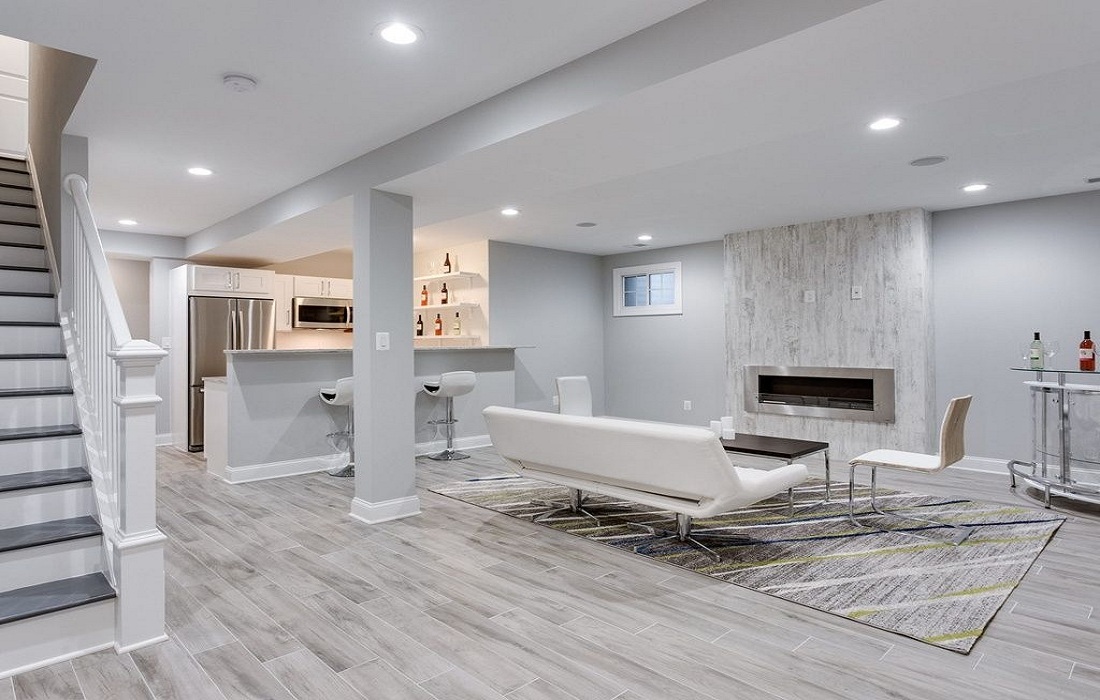 The basement is one place in the house where all the old and unused things get piled up. They go months or even years piling up trash and dust. Is the basement really only to pile up old and unused things? 
Many house owners think they need to spend thousands to create a basement worthy of their time, however, what they need is only of their some time (to clean up all the years of piled up trash) and a little investment to turn their basement into an luxurious room that not only are gorgeous but makes an extra place to sit. To inspire you with some of our areas, we will talk about 23 unheard of ways to achieve a greater basement.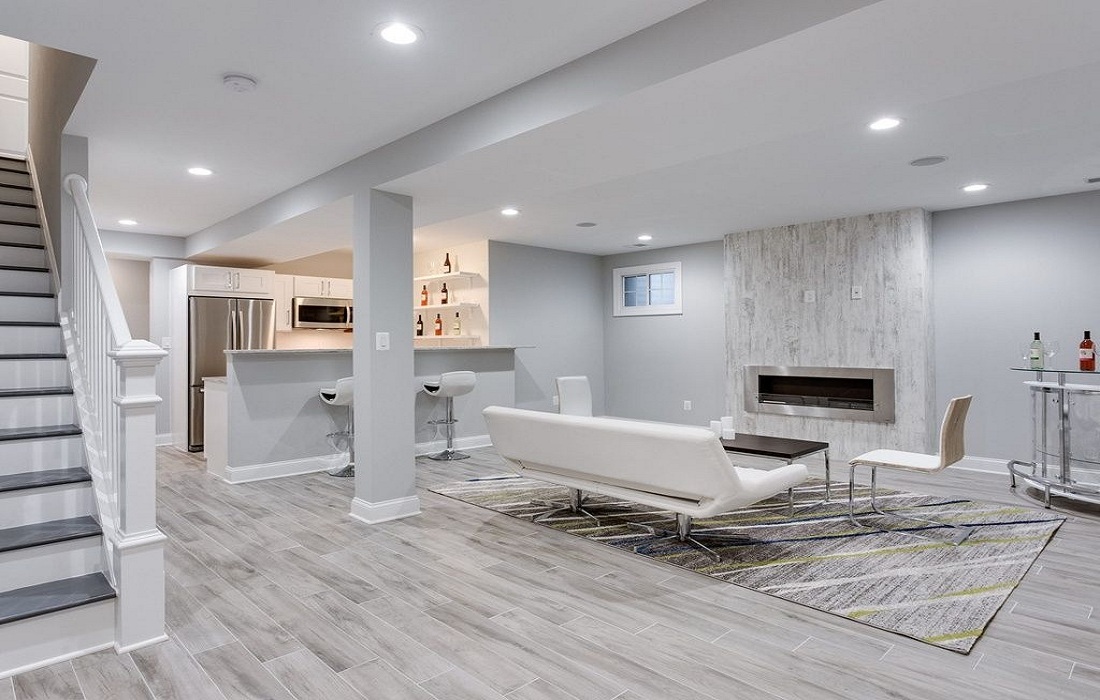 It does not matter if the light inside the basement is natural or not. Good lighting will make your basement attractive and automatically a hundred times better than before. No one would want to spend time in a basement where there is very less lighting, hence try looking for options for lights that do not cost much. The Enuonek Tech Company has lights that are cheaper and last longer and so is the best option when it comes to having more lights.
Colors play a huge role in our moods. As believed by many people, gray does not always give people a dull vibe. As the above picture show, gray walls complimented with a sofa of the same color and blue pillow adding vitality to space. This creates a warm atmosphere for the entire basement with a light that is not too dim or too bright.
Glass push doors can be used as separators in the basement that separates the whole basement into several rooms giving more privacy and space. The glass door tends to make space look more patterned rather than smaller.
Set the mood with Lighting
Lighting is very important when it comes to the success of your basement. Try adding recessed downlights to the entire basement. This will make your room look brighter along with the natural light from the small window that makes the basement spacious. The Enuotek Company promises to make your basement bigger and brighter with LED downlights.
Use bold and bright Colors
Keeping it bold and bright with neutrals colors will make the whole space look more spacious and attractive. Try using white or light gray for a change. Neutral colors are easier to match with other furniture and decorations.
Got an empty wall that ruins that look of your basement? Add artwork on it. A few large pieces of art can cover your empty basement's wall. If you are worried that your budget is not enough to buy expensive arts, try creating some on your own by making a wall of art. You can always get cheap frames or maps in the local thrift store.
Use Curtains as separators
An alternative to glassdoor, a cheaper option is curtains for partition. Many people don't think that curtains are required in the basement, but in fact, curtains can be a great tool for temporary partition. If you have a wall that is ready for the building, cover it up with curtains to create a warm atmosphere.
Add a unique touch with a Carpet
Carpets can cover your empty looking flooring while also adding a unique touch to the room. An attractive carpet can make you have a focal point and cause fewer distractions.
Leisure lifestyle in your basement
Many people decorate their basement into a relaxing place. Putting a sofa, TV, table and a few chairs usually heal a busy heart and mind. You can always chat with your family or get your me time in this basement.
Simplification of your basement
If you want your room to be simple, just add some furniture you will use that is necessary like sofas, chairs, tables, etc. Add neutral wall colors with simple lights.
If you don't like the feeling of crowding, you can create a simple basement, just put some furniture you use, such as sofas, chairs, tables, TVs, etc., with neutral walls and bright colors. The lights are simple but not simple.
Elegantly styled basement
Make your basement more atmospheric by adding neutral colors to the walls with dark toned furniture and appropriate lighting according to the mood. Your dirty and dim basement can be transformed into an elegant styled basement.
Stay relaxed with a Blue tone
Blue is the color associated with a calm and relaxing vibe. Add blue to your basement to sooth your mood. The sea blue theme with wooden cabinets and floors add a sense of luxury to your basement along with giving you a pleasing vibe.
Is your living room too small to entertain a large number of your friends? Think about transforming your basement into a bar. Invite your friends over and sit at the bar in your bar having chats and drinking wine.
Why not an Entertainment Room?
If you want to spend quality time with your friends, convert your basement into a recreation room by putting a few pool tables and gaming equipment. Invite your friends over to play and spend quality time on weekends.
Dedicate it to your Children
Want to dedicate the whole basement to your children? Add attractive colors to the walls along with a variety of toys allowing your child to stay inside for the day having fun.
The most common basement modification is the storage room, but do you know that an orderly storage room can invisibly expand the space in your basement making it look bigger and spacious?
Spending money going to the gym every day to exercise? Build your own gym by putting some commonly used fitness equipment in your basement. You can exercise at your own house, resulting in a more cost effective spending.
Many people work from home. If you do too, do consider turning your basement into your office where you can work without having many distractions.
Love cooking? Then you will love this transformation. Turn your basement into a second kitchen. The spacious room will make your kitchen look more airy and breathable giving you and your family plenty of space to eat too.
You can always transform your basement into a guest room by adding a bed, a cabinet, and a TV. So, next time you won't have to worry about your friends coming over for a sleepover.
Dedicate your basement to your child. Many children do need privacy. Transforming the basement will ensure they have plenty of room to invite friends, play games and work on their homework.
Create your own band and a music room without bothering others. Move your music to the basement for a spacious room and avoiding trouble with the neighbors.
Every person needs a work room on his own. Fulfill your desire by adding a chair or tools you can work with. You don't need complicated designs, cabinets and concrete floor plans. Keep your expenses low and make your basement look simple yet attractive.
As we covered the 23 ways of transforming the basement, we understood how the basement is not just for garbage but a second living space that can be utilized in the most effective ways. Be sure not to let the basement go to waste by piling up old and unused things in it.
About the writer
Tasee is the manager of Enuotek.com. She interests in home decor and enjoys sharing her ideas about it, like interior designs, DIY projects, renovations, and quality template designs.