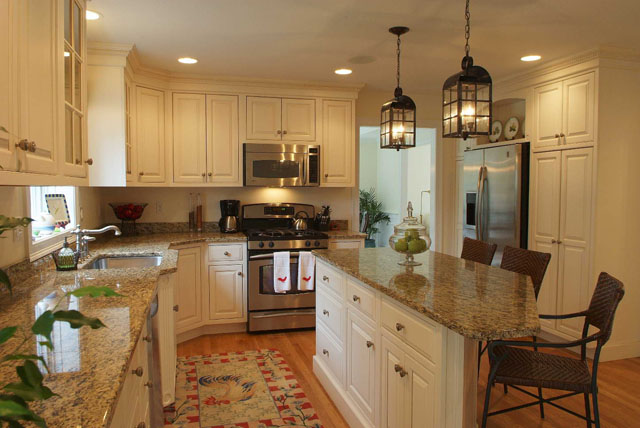 The kitchen is the perfect place to show off your style. The right kitchen design will be able to accommodate your specific cooking needs, provide the type of space required for dining, and offer ample storage space. However, you may also consultant with A+ Construction and Remodeling to get the best advice.
The decor in this room should also complement your home's a overall architecture and set the tone for any parties or other types of gatherings.
There are many factors that go into kitchen designs, but the first step to take before selecting new or old colors for appliances or cabinets is to set some specific goals. Here are some considerations to keep in mind when planning a kitchen remodel.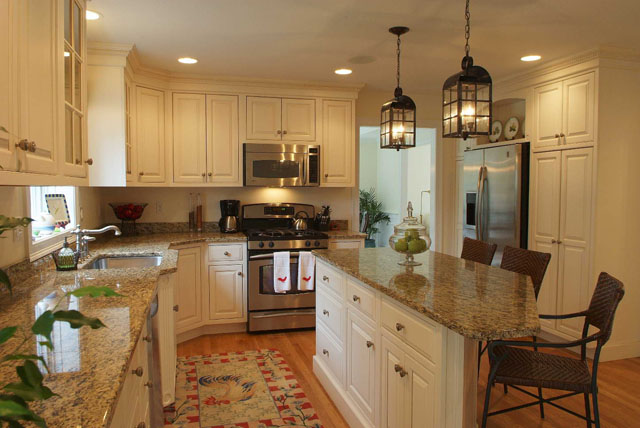 Size of the Space
All of the space in your kitchen is important, particularly for a smaller kitchen. The size will ultimately determine the specific layout and color of the room, including whether or not it will feature an island, prep sink, or storage space.
Consider whether you'll knock out walls or expand the kitchen by adding onto the home. Also, consider how much space you can actually add to the kitchen layout. These are aspects that a professional kitchen remodeler or architect can help you determine.
Existing Layout of the Home
Try not to rely on your kitchen's current footprint as a template for a remodel. Windows and doors can often be changed, but if you need to maintain them, you could be locked in to the existing layout.
Regardless of the position of windows and doors, there are always workarounds. For example, you can add a peninsula to an L-shaped kitchen to create a horseshoe design that accommodates additional counter space.
Think about what works in your existing kitchen and see how you can modify any of these aspects to further improve the space. This could include how you move in the space, the workflow as it relates to your cooking routine, ease of movement from the range to the sink, and effectiveness of the kitchen when cooking with another person.
Infrastructure
Based on the age of the kitchen, you may want to consider plumbing and electrical wiring throughout the remodel. You can work with an architect and engineering team to make sure that you can retrofit new technology with older systems. Otherwise, you may find that you need to replace these systems entirely before considering a remodel, which could contribute a lot of additional expenses to the overall project.
If you believe it will be too much, you can always settle for toying with the layout and surface decor to freshen up the space.
Budget Constraints
Always try to avoid going over budget with your kitchen remodeling projects. If you think a project will cost too much, you may want to consider reworking the plan or at the very least waiting until you've saved enough to afford that dream kitchen you've always wanted.
Taking each of these aspects into account when remodeling a kitchen, you can be on your way to the perfect design that meets your expectations, giving you the space you want while staying within your allotted budget.