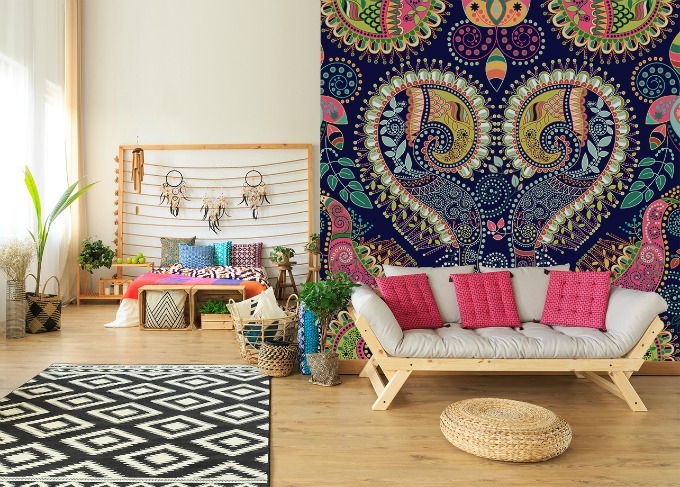 The combination of light, organic pattern with cool, neutral colors is elegant and stylish. This look is perfect for everything from a loft, to a bathroom, to your hallway. These chic boho wallpapers will make you feel as if you're living in the heart of nature – yet, still warm and homey. This look is soft, smooth, and best of all… trendy!
The bohemian trend is here to stay and we're not complaining.
If your home decor is inspired by the free-spirited style of the 70's, then you'll want to check out these chic removable wallpapers that will look perfect in any boho space.
From vintage-inspired prints to colourful motifs and elegant patterns, there's something for every taste.
Look through our favourite styles below and transform your space with a statement wallpaper.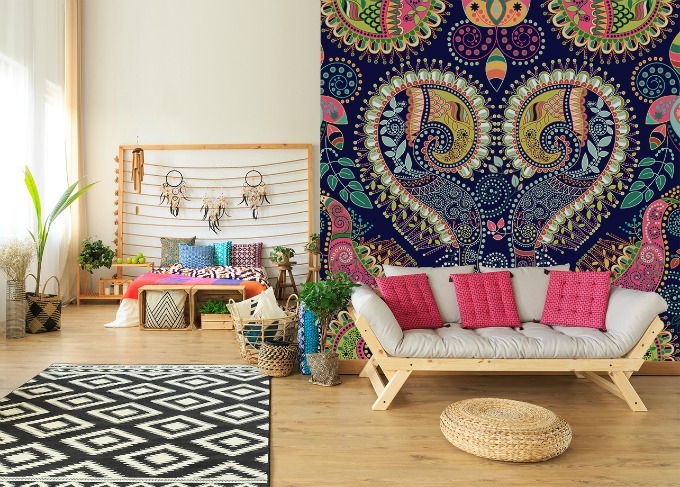 Watercolor Herringhone Wallpaper                           
Unleash your inner artist with Watercolor Herringhone Wallpaper. With its bold and inspiring design, this wallpaper will immediately add depth and individuality to any space. Designed and printed on high-quality, eco-friendly paper that won't fade or peel, it is a beautiful way to decorate a bedroom or office.
Vintage Anemones Wallpaper
Vintage Anemones Wallpaper has a watercolor effect with subtle faux distressing to give it an authentic, vintage appearance. The beautiful floral design adds color and character to any room, bringing nature inside for added enjoyment. It's easy to transform the look of any space with wallpaper.
Floral Medallion Wallpaper
Floral Medallion Wallpaper is a reproduction of an original mid-century floral wallcovering design. A border of four-sided paisley shapes gives this wallpaper a sense of the traditional, yet it's been given a modern update by the addition of intricately patterned flowers in orange, cream and green.
Watercolor Ombre Wallpaper
Add just the right amount of drama to any room. This watercolor ombre wallpaper makes a beautiful backdrop for shelf styling or as an accent wallpaper. Printed on removable and temporary wallpaper, you'll be able to transform your wall space whenever you choose. Inspired by the popular Bali Batik Print, the designers wanted to incorporate that same feel into a dynamic boho chic wallpaper.
Mod Herons Wallpaper
Mod Herons Wallpaper features birds from the 1970's in a print from the Mod Heron brand originally used for retro buildings. This wallpaper is perfect to be a cool background for your kids room and will make them feel as if they were in their own hippie pad.
Floral Botanica Wallpaper
Floral Botanica is a wallpaper that features richly colored flowers, green leaves and stalks with a geometric pattern in rich colors on a beige background. Floral Botanica is from the Foliage collection. It is a classic design consisting of an abstract, botanical pattern printed onto the reverse of an acoustically absorbent wall surface for stunning, multi-dimensional and intriguing textures. Each roll creates one continuous length of wallpaper with minimal waste, unlike other wallpaper brands where you will often need to join at the vertical folds to create flat strips. This wallpaper creates a striking backdrop and adds depth and character to any wall.
WildFlower Collection Wallpaper
Whether you're shooting for a fun pop of color in your bathroom or looking for an elegant way to hide scars and imperfections, the Wildflower Collection wallpaper gives you exactly what you are looking for. Available in three realistic grass designs, it provides a subtle texture without being too bold. Let the outdoors in. Bring the beauty and color of a flower meadow into your home with this beautiful collection of floral wallpapers. With three designs available, you'll have no trouble finding the perfect wallpaper to match your decorating style.
Inky Diamonds Wallpaper
Let your personality shine with the Inky Diamonds wallpaper collection. These chic, modern wallpapers feature block printed, gilded diamond and hexagonal motifs in a variety of shades and finishes to suit any style. They're a beautiful way to add that special touch to any room in your home. This Inky Diamonds wallpaper features a dimensional pattern of rich black diamonds for a glamorous look in your home. Use this versatile pattern on an accent wall in your living room, dining room, bedroom, or even in your hallway to create the illusion of dark space.
So go ahead and grab a few of these boho wallpapers for your walls. They'll totally complement your decor. And next time someone compliments you on them, be sure to tell them that we said so!