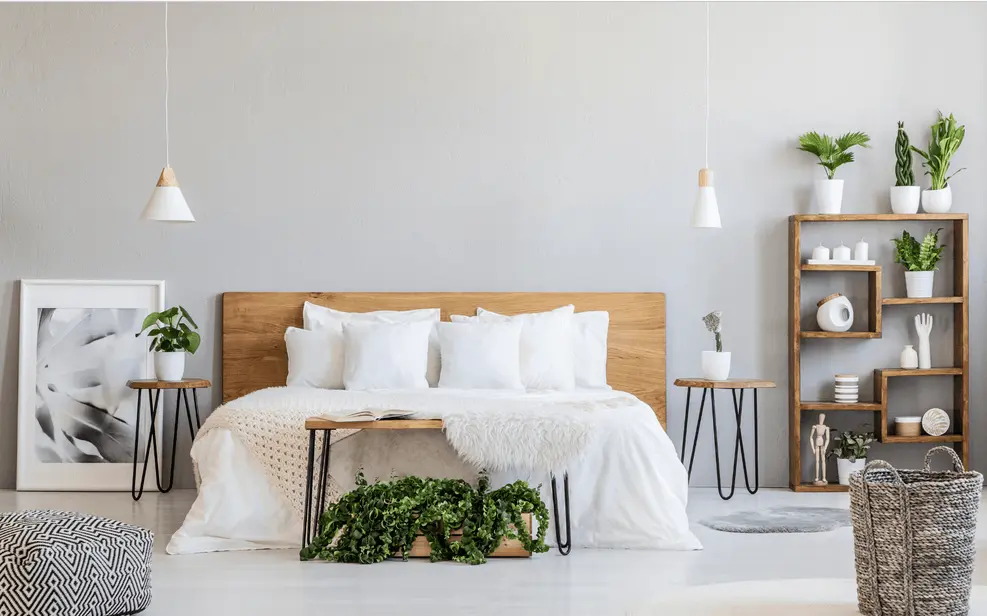 Haven of peace, cocoon of privacy, revitalizing refuge … is the master bedroom the favorite room for couples? Follow our tips and inspirations to successfully decorate a master suite, no matter its size.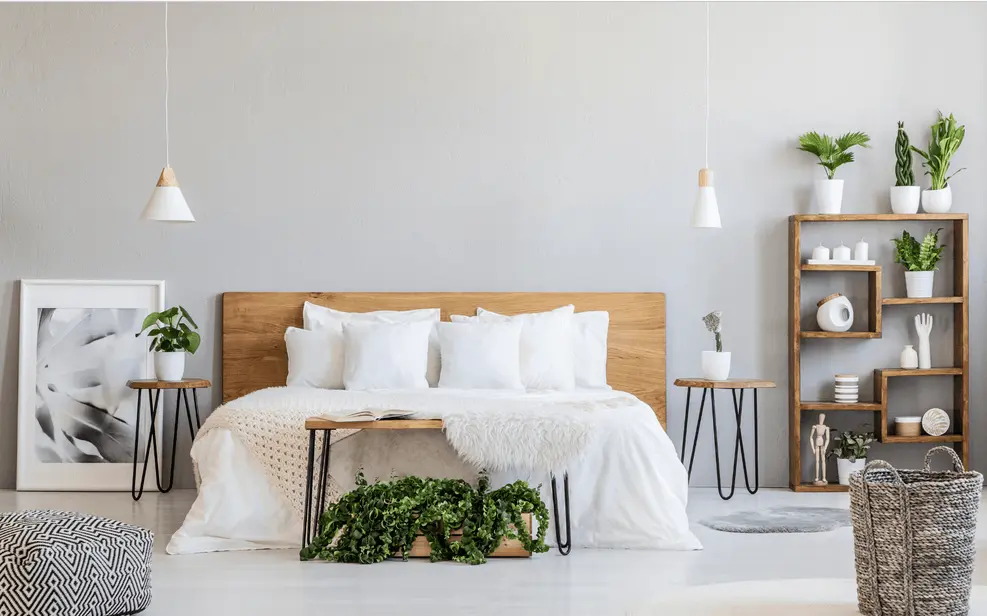 Design and decorate a master bedroom in 6 steps.
Step 1
Take your measurements! First and foremost, get a measuring tape and take into consideration the architectural features that cannot be changed, such as windows or built-in closets!
Step 2
Think about  the position of the bed! Preferably place it away from the door and against a wall. Before the big installation, plan as much as possible. Ask yourself what you want to see and / or hear while in bed. According to several studies, sleeping with your head in the east would be beneficial for sleep.
Step 3
Choose with the greatest care  the dominant colors of your room . As you probably know, each shade conveys an emotion of its own. For a soothing atmosphere, choose cool tones such as blue or green. For a warm and intimate atmosphere, bet on warm tones such as mustard yellow, terracotta or burgundy red. Be careful though because these are stimulating colors. White, sky blue or even gray can help you meet Morpheus.
Step 4
Then select  furniture that matches the style of your home. Example: if your urban home is decorated in an ultra-modern style, choose contemporary furniture, namely a designer headboard, a console in lacquered black, a metal pendant light. If the decor of your home is rather classic, opt for for more traditional furnishings.
Step 5
Clothes, books, magazines, shoes scattered around … In the bedroom as everywhere else, tidying up is an eternal restart. To prevent your master bedroom from looking like a store on a sales day,  think about smart storage. Also stick to a daily routine. Remember, an organized space helps to have clear ideas. An office has no place in a bedroom. This room must remain a place of rest and not of work.
Step 6
Finally, add warm and comforting linens: a coarse-mesh bed throw, velvet curtains, a pure new wool rug, faux fur cushion covers. These pieces of textiles will breathe a breeze of softness and warmth in your bedroom. Don't forget the soft cushions and plaids! Check out essential bedroom items.
3 Decorating Ideas For the Master Bedroom 
Do you dream of an original and stylish bedroom? A true cocoon, this room of the house is the place where people can recharge their batteries and share moments together.
Follow these ideas to successfully decorate your master bedroom.
For a Zen master bedroom decor, paint your walls in soft green and beige tones, then select wicker furniture. Add a feather pendant and rattan bedside lamps, as well as a white shaggy rug. A paper light garland hanging over your headboard will complete a natural and relaxing decor.
For a boudoir atmosphere, cover your walls with light gray and pastel pink wallpaper. Choose light-colored furniture: a matte white linen cabinet, a powder pink chest of drawers and light wood bedside tables. Create an alcove by hanging muslin curtains hanging over your bed. Scatter a few candle holders here and there for a warm and intimate look.
Want a modern room that inspires luxury, calm and pleasure? Bet on bright colors and raw wooden furniture. For example, paint your walls in petroleum blue and select furniture in light oak. Add a boxspring bed, which is ultra trendy and offers optimal sleeping comfort. Design subdued lighting using night lights and scented candles.